by Leila Sales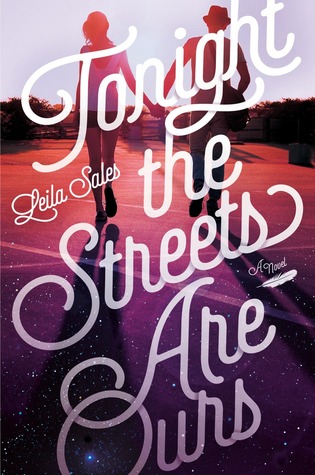 From the author of This Song Will Save Your Life comes a funny and relatable book about the hazards of falling for a person you haven't met yet.
Seventeen-year-old Arden Huntley is recklessly loyal. Taking care of her loved ones is what gives Arden purpose in her life and makes her feel like she matters. But she's tired of being loyal to people who don't appreciate her—including her needy best friend and her absent mom.
Arden finds comfort in a blog she stumbles upon called "Tonight the Streets Are Ours," the musings of a young New York City writer named Peter. When Peter is dumped by the girlfriend he blogs about, Arden decides to take a road trip to see him.
During one crazy night out in NYC filled with parties, dancing, and music—the type of night when anything can happen, and nearly everything does—Arden discovers that Peter isn't exactly who she thought he was. And maybe she isn't exactly who she thought she was, either.
This is another BEA book I got this spring. After I picked it up I sat in the Richelle Mead line and the girl in front of me was gushing about Leila Sales and how amazing This Song Will Save Your Life is. This was one of many people who commented on Sales with the same sentiment. I'd never read it, so I went into this book hearing nothing but awesome things about that book and the author, so I finally got around to picking up this one to read.
This book is about two best friends, Arden and Lindsay. They are inseparable and completely opposite each other. Lindsay keeps getting into trouble by making stupid mistakes while Arden is forever bailing her out and helping her. Arden is also in a relationship with the star of the high school theater department. One day Arden finds a blog online and her and Lindsay go on an adventure that changes Arden's life.
I LOVED this book. I think one of the reasons why was because I happened to read the right book at the right time in my life. It was the perfect escape for me, a nice bit of light, fun, reading after too many epic, in depth books.
Aside from timing of me reading it, the characters were great too. Arden was such a realistic character. I could completely relate with her, I've been her, minus the impromptu trip to NYC to stalk someone she "met" on the internet. I wasn't really a fan of Lindsay, and I actually loved their fight, it was exactly what needed to happen to them. I enjoyed Peter too, he was interesting, and way more complex than I originally thought he would be.
All the non-New York secondary characters were really flat, Lindsay's parents were fit nicely into one stereotype, Arden's dad fit into another, and her brother filled the annoying younger brother stereotype perfectly. Chris was the perfect self-centered asshole of a boyfriend, the girls at school were your typical mean girls.
Once Arden and Lindsay got to New York things got a little bit more interesting character-wise. The reader met everyone through Peter's blog, but then got to meet them in real life. It was really fun to have your preconceived opinions about them completely thrown out the window.
As for the plot, it was a cool premise, but not so realistic. Who drives six hours from middle of nowhere suburbia to one of the country's most major cities when they've been there once before (when they were 8) to find the author of a blog - on a whim. Then there was the
subplot with Arden's mom, it felt off and unnecessary. Essentially it felt like a plot device for New York.
Despite everything I didn't like about the book it came together beautifully and it was really just a story about Arden growing up and coming into her own. The good things from the book completely overshadowed the bad. To the point of if I wasn't thinking about it to write the review I simply would have said I loved the book. It wasn't until I had to figure out why I loved it that I kept thinking of all the stupid/bad bits. And I still can't come up with a solid reason why I loved it. I just did. It must be some Lelia Sales writing magic.
Overall I give this a 9/10. It was great, en lieu of what I complained about above - trust me.