by Neil Gaiman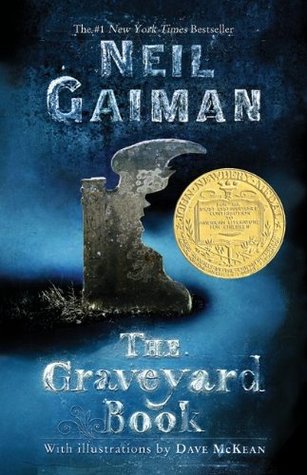 After the grisly murder of his entire family, a toddler wanders into a graveyard where the ghosts and other supernatural residents agree to raise him as one of their own.
Nobody Owens, known to his friends as Bod, is a normal boy. He would be completely normal if he didn't live in a sprawling graveyard, being raised and educated by ghosts, with a solitary guardian who belongs to neither the world of the living nor of the dead. There are dangers and adventures in the graveyard for a boy. But if Bod leaves the graveyard, then he will come under attack from the man Jack—who has already killed Bod's family . . .
Beloved master storyteller Neil Gaiman returns with a luminous new novel for the audience that embraced his New York Times bestselling modern classic Coraline. Magical, terrifying, and filled with breathtaking adventures, The Graveyard Book is sure to enthrall readers of all ages.
Thoughts on the Book
I consider myself a fan of Gaiman, even though I had only ever read one book by him. I'm not sure why, it could be because he always is categorized with other authors I'm fans of, or I like him from interviews. When I saw this available as an audio book I jumped at listening to it, because who doesn't want to listen to Gaiman narrating his own book?
My Review
This book follows Nobody Owens in his journey to adulthood. He grows up in a graveyard, raised by ghosts, after the man Jack killed his family.
I loved this story, right from the beginning. Who doesn't love a story that starts with Danse Macabre by Saint-Sa
ë
ns? It's one of my favorite classical pieces, and so much freaking fun to play! But besides the amazing music at the beginning and in between each chapter the story itself was great. Bod was such a sweet kid. The story really focused on him growing up. It was very character driven with not too much action until the very end. But the world was enough to hold interest, and the characters were engaging enough to move the story along.
I like the mystery of why Jack killed Bod's family, he didn't find out until the very end. I love also that the prophecy was self fulfilling. Those are my favorite kind. I also really enjoyed Liza, the witch, she was my favorite character. It was cool how the rules of consecrated ground differ from unconsecrated ground, so she could essentially be a second guardian to Bod.
Overall I give this a 10/10. I highly recommend this story. Gaiman is a fantastic story teller. Now I want to read this story just to see the illustrations!