by Max Wirestone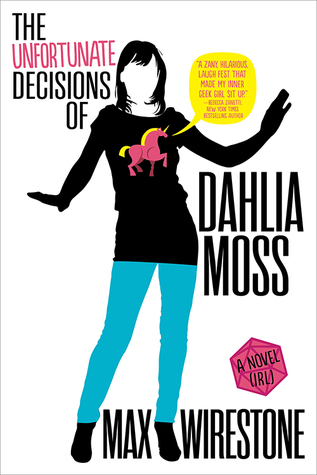 For fans of The Guild, New Girl, Scott Pilgrim, Big Bang Theory, Veronica Mars, or anyone who has ever geeked out about something.
The odds of Dahlia successfully navigating adulthood are 3,720 to 1. But never tell her the odds.
Meet Dahlia Moss, the reigning queen of unfortunate decision-making in the St. Louis area. Unemployed broke, and on her last bowl of ramen, she's not living her best life. But that's all about to change.
Before Dahlia can make her life any messier on her own she's offered a job. A job that she's woefully under-qualified for. A job that will lead her to a murder, an MMORPG, and possibly a fella (or two?).
Turns out unfortunate decisions abound, and she's just the girl to deal with them
I received this book from Netgalley. Based off of the first line of the summary I knew I would love it. Veronica Mars is my favorite TV series (I totally kick-started the movie) I love Big Bang Theory and New Girl, and I'm pretty much Ramona from Scott Pilgrim (trust me, cabinet full of tea varieties, I have it). After reading that first line I knew two things for sure - I needed to read this book, and I really should watch The Guild.
This book is about a perpetually unemployed girl, Dahlia, who gets hired to find a digital weapon and gets sucked into solving a murder.
I loved this book! It was so much fun! Dahlia is a little crazy/neurotic and her roommate, Charice is totally bonkers. It worked with the story though. Everything was a bit on the crazy side, so when Charice allowed for a production of Godspell to happn in their apartment so Dahlia had to leave to go hang out with a murder suspect she thought was cute it just fit perfectly within the story.
Probably my favorite thing was all of the geeky references dropped throughout the book. Most I got, but there were a couple that went over my head. Two of my favorite geeky lines were:
"I put on my sexiest clothes, then, worrying that I had overshot the mark, opted for my Jigglypuff cap. It was cold, and Jiggly helped send the message I wanted to send, which was apparently that I would like Nathan to fall asleep so that I could write on his face. (This is a hardcore Pokémon reference and if you do not get it, I apologize. If you do get it, I apologize even more deeply.)"
and
"Ever read one of those old private-eye mysteries where the detective gets double-crossed?"
"I suppose." said Nathan. "I'm really more of a sci-fi guy."
"But you knew all of those noir words!"
"Google," said Nathan.
"Well, it's a thing. Sam Spade is in his office, or wherever, and some dame with great legs comes in and asks him to find her sister."
"Did Jonah have nice legs?" interrupted Nathan.
"He had nice pants, but let me finish. The dick takes the case, and when he finds the sister, he discovers she's dead, gets framed, and besides which it wasn't the dame's sister anyway."
"And the great legs were prosthetic," added Nathan.
"Exactly," I told him.
"There never was a dame, she was a hologram."
"Yes, you're moving into sci-fi."
"The sister was a Cylon."
"Now you're just being derivative."
One character, Kurt, was described as a snorlax, how awesome is that? Then there was the bit with viola jokes (I play violin, my best friend plays viola, so I've always enjoyed sharing the more awful viola jokes with her).
The flirting between Nathan and Dahlia was great too, I especially loved her iPod password at the end and Nathan's reaction to it. If I continue listing all the funniest parts of the book, I'll end up just posting the entire book, out of order, so I'm going to stop now and say - go read this book! It's so awesome and if you have a geeky bone in your body, you'll love it!
I give this a 10/10. Such a fun read. I really look forward to seeing what Max Wirestone comes out with next!