by Katie Rorick and Rachel Kiley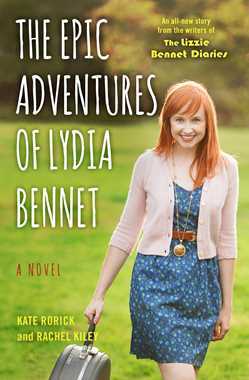 Summary from GoodReads
Based on the Emmy Award­-winning "genius" (The Guardian) web series, The Lizzie Bennet Diaries, this is a new novel starring Lizzie's spunky sister Lydia as she navigates the joys and pitfalls of becoming an adult in the digital age.
Before her older sister, Lizzie, started her wildly popular vlog, Lydia was just a normal twenty-year-old plotting the many ways she could get away with skipping her community college classes and finding the perfect fake ID. She may not have had much direction, but she loved her family and had plenty of fun. Then Lizzie's vlog turned the Bennet sisters into Internet sensations, and Lydia basked in the attention as people watched, debated, tweeted, tumblr'd, and blogged about her life. But not all attention is good…
After her ex-boyfriend, George Wickham took advantage of Lydia's newfound web-fame, betrayed her trust, and destroyed her online reputation, she's no longer a naïve, carefree girl. Now, Lydia must work to win back her family's trust and respect and find her place in a far more judgmental world.
Told in Lydia's distinctive, eccentric, and endearing voice, The Epic Adventures of Lydia Bennet picks up right where The Secret Diary of Lizzie Bennet left off and "offers a fresh take on Pride and Prejudice without ruining it" (The Washington Post, on The Secret Diary of Lizzie Bennet). Featuring fresh twists, wonderful new characters, and scores of hilarious texts, doodles, and tweets, The Epic Adventures of Lydia Bennet takes you behind the webcam and into the lives of your favorite sisters in a way that's sure to satisfy existing fans and delight new ones.
Thoughts on the Book
I'm a huge fan of the Lizzie Bennet Diaries, so getting this was a no-brainer. Lydia was always my least favorite character (Wickham and Caroline notwithstanding) but I love the world and I will never say no to more from it.
My Review
This book follows Lydia's story after Lizzie moves to San Francisco. It's all about Lydia figuring herself out and getting back to a new normal after the Wickham drama.
I absolutely loved this story. It was everything I wished that The Secret Diary of Lizzie Bennet was. Lydia's voice shines through and she's as funny as ever! I loved being able to see deeper into Lydia, to see more than her superficial party girl persona. She's extremely intelligent and intuitive and it was wonderful to watch her begin to see that in herself.
So many characters came back, mainly Mary, but Jane was in it a bit, as sweet as ever, and Bing! I love Bing. I love how he dealt with Lydia too, by bringing her to where he worked and letting her figure things out for herself and helping unobtrusively. I also loved Lydia's New York friends, they were so great and really helped her come into her own. I would so love to go to a party like she went to! Pretty much any Disney themed party I would love to go to...
There were only two minor things I didn't like about the book. It needed more Darcy. We got lots of Lizzie, but Darcy was never with her, I really want to see them interact now that they're together! The other thing was Mary's story. It was so...predictable? It's such a trope.
I give this a 10/10 because it was totes adorbs, duh! But seriously, it was everything I could have wanted in a LBD story.