by Rainbow Rowell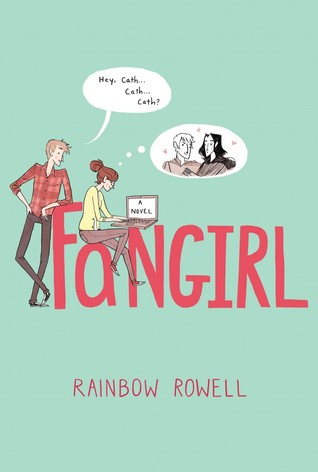 Summary from GoodReads
A coming-of-age tale of fan fiction, family and first love.
Cath is a Simon Snow fan.
Okay, the whole world is a Simon Snow fan...
But for Cath, being a fan is her life—and she's really good at it. She and her twin sister, Wren, ensconced themselves in the Simon Snow series when they were just kids; it's what got them through their mother leaving.
Reading. Rereading. Hanging out in Simon Snow forums, writing Simon Snow fan fiction, dressing up like the characters for every movie premiere.
Cath's sister has mostly grown away from fandom, but Cath can't let go. She doesn't want to.
Now that they're going to college, Wren has told Cath she doesn't want to be roommates. Cath is on her own, completely outside of her comfort zone. She's got a surly roommate with a charming, always-around boyfriend, a fiction-writing professor who thinks fan fiction is the end of the civilized world, a handsome classmate who only wants to talk about words... And she can't stop worrying about her dad, who's loving and fragile and has never really been alone.
For Cath, the question is: Can she do this?
Can she make it without Wren holding her hand? Is she ready to start living her own life? Writing her own stories?
And does she even want to move on if it means leaving Simon Snow behind?
Thoughts on the Book
I read this book when it first came out when blogging was still just a vague idea in my head. After reading Carry On I wasn't done with the world of Simon Snow, so I felt compelled to reread Fangirl, which fortunately my friend had gotten me for my birthday so I had a copy on hand.
My Review
The story is about a girl, Cath, who not only has to deal with leaving home and everything comfortable and known to start college, a world of unknowns, but also has to deal with the end of the Simon Snow series, which is practically her whole world.
I love this book. I think it got better the second time I read it. I love how messed up Cath and Wren are and how, even though they share the exact same DNA and were brought up in the exact same circumstances they deal with everything in drastically different ways. Cath internalizes everything and locks it down and tries to avoid bringing anyone else into her life, Wren overcompensates with having fun and putting on a good front and blocking everything from actually meaning anything to her.
I love how much both Cath and Wren grew as characters. When the book ended they were miles from where they started and were closer than ever. For the other characters, I love Reagan. She's probably my favorite character from the book, she's so unforgivingly her own person, if you don't like her, that's your problem. So much of Cath's growth is due to her, the best thing that could have happened to Cath was Reagan taking her under her wing, showing her that it's okay to be yourself. Levi I didn't like too much, he's kind of a jerk. Cath forgives him too easily, but after that he gets better, but I still wouldn't trust him. But, given Levi and Nick, I'd go with Levi everytime.
My favorite part about the book (although it could be due to just reading Carry On) were the Simon Snow snippets, and the full short story that Cath read within the book. I love the world of Simon Snow and I love that Rowell was stuck on it too and felt the need to write a story about them. So great!
I give this one a 10/10. I loved it when I first read it, and I love it even more years later for a reread.