by Marie Lu
narrated by Steven Kaplan and Mariel Stern
T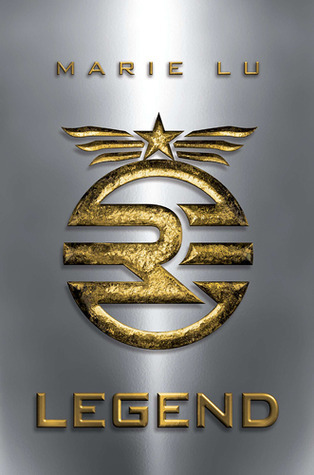 Summary from GoodReads
What was once the western United States is now home to the Republic, a nation perpetually at war with its neighbors. Born into an elite family in one of the Republic's wealthiest districts, fifteen-year-old June is a prodigy being groomed for success in the Republic's highest military circles. Born into the slums, fifteen-year-old Day is the country's most wanted criminal. But his motives may not be as malicious as they seem.
From very different worlds, June and Day have no reason to cross paths—until the day June's brother, Metias, is murdered and Day becomes the prime suspect. Caught in the ultimate game of cat and mouse, Day is in a race for his family's survival, while June seeks to avenge Metias's death. But in a shocking turn of events, the two uncover the truth of what has really brought them together, and the sinister lengths their country will go to keep its secrets.
Thoughts on the Book
This is the first of quite a few audio books I've listened to lately. I have always sort of wanted to read this series. Last year at BookCon I saw a panel including Marie Lu which was the first time I had heard of the series. So when I saw it was available as an audio book it was the first one I listened to.
My Review
This story is told from two perspectives, Day and June. One is a rebel fighting against the government (Day), the other is the perfect citizen, striving to be the best in the army (June). June has always been intrigued by Day and Day has no clue who June is, and really doesn't care. They are brought together once Day needs to steal plague medicine and June is brought into the investigation.
I absolutely loved this book. It was such a fun listen. The narrators, Steven Kaplan for Day's voice and Mariel Stern for June's voice, did such a great job with it. Stern's intonations I found to be perfect for how June would have sounded, they had the perfect attitude for a super smart overly logical person.
Both characters I found to be totally believable. June was spoiled because of her test scores, and the fact that Metias loved her and would let some things slide. She was also very smart and very logical, but it was within the confines of what she was taught. Day was also smart, although he was more street smart, and could infer things easily and accurately.
I found the setting very intriguing. It was a dystopian future, what else is new, but it wasn't so far fetched as other YA dystopias. Something happened in the US causing the states to separate off, leaving California and some other states as America while the other states became the Colonies. I loved being able to piece together the world, I get annoyed with stories that are like our world, but at the same time make no sense within our current context.
Overall I give this a 10/10. I couldn't put it down, my iPod was on and attached to me for the whole day! I can't wait to continue the series.