Top Ten Tuesday is a meme hosted by
The Broke and the Bookish
that allows bloggers to share their top ten lists for that week's topics
Top Ten Books I'd Love To See As Movies/TV Shows
1.
Vampire Academy/Bloodlines Series by Richelle Mead
– TV Show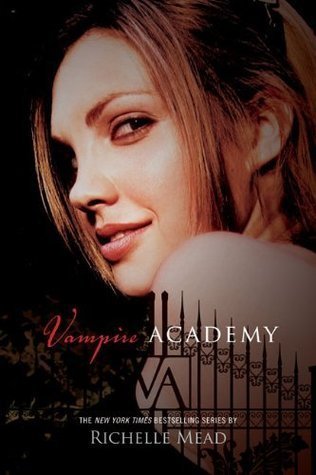 VA done as a TV show would do much better justice to the series than the movie did, or even could. Between VA and Bloodlines there is so much material that would make the series awesome. If they could turn a horrible series – The Vampire Diaries – into a kickass series, then why not start with a kickass series?
2.
Love is the Drug by Alaya Dawn Johnson
- Movie
This book could be an awesome thriller type movie, something like Contagion, but ya know, good.
3.
Pern Series by Ann McCaffrey
– TV Show
This would be an epic TV series, might be a little pricey with all the dragon and Thread CGI, but it's well suited for HBO. There so much material that they can make a nice long series without needing to contract actors for too long.
4.
Red River/Blessing Series by Lauraine Snelling
– TV Show
These series (all 5 of them(so far) – Red River to the North, Return to Red River, Daughters of Blessing, Home to Blessing, Song of Blessing) would make an awesome Little Home on the Prairie type show. Again these series have so much material to work with. The only problem I'd see with them would be the children aging, Thorliff is 5 in the first book, An Untamed Land but is in his 20s in Return to Red River, then in his 30/40s for Song of Blessing. But seriously people, Alexander Skarsgård as Haaken? Chris Hemsworth as Hjemler? Yes please. You really can't beat hot Scandinavians.
5.
Daughter of Smoke & Bone Series by Laini Taylor
– Movie
This would make a pretty epic movie trilogy, and some scenes in 3D would be sick, when they fly over Prague? Some of the action in Morocco? This would be such an awesome movie series, if they don't totally mess it up that is.
6.
The Circle of Magic Series by Tamora Pierce
– TV Show
I would love to watch a TV show about four young kids learning magic. Doing this series as a TV Show would allow them to take their time and do some pretty fun stuff for filler episodes of the group getting into minor shenanigans as they slowly become friends, or have magical mishaps while learning their magics. It would be an adorable show for adolescents, and a good show for us older Tamora Pierce fans to enjoy so long as they stay true to the overall story arc and don't cut scenes from the book to dumb it down and make it super kiddy.
7.
East - Edith Pattou
- Movie
This book would make a pretty awesome movie. It would be like Frozen, since they're based off of similar fairy tales, but way more epic and without any rock trolls.
8.
The Brethren of the Coast Series - James Nelson
- TV Show
What's missing from TV right now? A show all about pirates. Seriously, why hasn't this been made yet? I think a swashbuckling TV show would do justice to this series in a way a movie just couldn't.
9.
Kingdom Beyond the Waves - Stephen Hunt
- Movie
This book (and possibly the rest of the series, they can stand alone) would be awesome in movie format. Cut out the slower more boring bits of the book, and enter the beautiful underwater world of Atlantis. It's been a long while since Atlantis has made it onto the screen.
10.
Castaway of the Flying Dutchman - Brian Jacques
- Movie
Okay, so I like Pirates, but this would be an awesome family-friendly movie, a nice summer blockbuster to take your kids to. It also works nicely as a stand alone but can be added to with the rest of the series without taking anything away from the original.
This list was extremely difficult to put together, a lot of my favorite series have already been turned into movies or TV shows, and in doing so were ruined. Timeline anyone? Vampire Academy? So as I'm going through the list of books I love I had to eliminate most of them because I love the series too much to risk it being ruined by the screen, big or small. What are your thoughts on this? Do you agree? Disagree? Think any other books/series would work on the screen better?