by Julie Murphy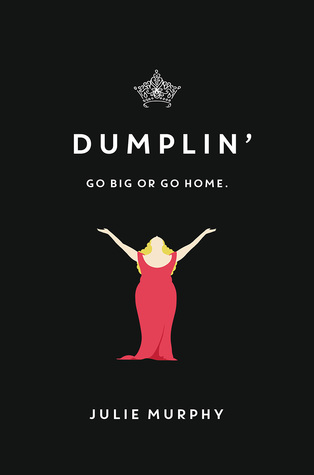 Summary from GoodReads
Self-proclaimed fat girl Willowdean Dickson (dubbed "Dumplin'" by her former beauty queen mom) has always been at home in her own skin. Her thoughts on having the ultimate bikini body? Put a bikini on your body. With her all-American beauty best friend, Ellen, by her side, things have always worked . . . until Will takes a job at Harpy's, the local fast-food joint. There she meets Private School Bo, a hot former jock. Will isn't surprised to find herself attracted to Bo. But she is surprised when he seems to like her back.
Instead of finding new heights of self-assurance in her relationship with Bo, Will starts to doubt herself. So she sets out to take back her confidence by doing the most horrifying thing she can imagine: entering the Miss Clover City beauty pageant—along with several other unlikely candidates—to show the world that she deserves to be up there as much as any twiggy girl does. Along the way, she'll shock the hell out of Clover City—and maybe herself most of all.
With starry Texas nights, red candy suckers, Dolly Parton songs, and a wildly unforgettable heroine— Dumplin' is guaranteed to steal your heart.
Thoughts on the Book
I've been looking forward to reading this book since my friend Nori posted it as her Waiting on Wednesday back in March. I was lucky enough to snag a copy at BEA and meet Julie, who's awesome and grew up a few towns over from me!
My Review
This story is about a heavier girl, Willowdean, and how she copes with not fitting into our society's ideal of beauty. Will has to deal with bullies, budding romances, self doubt, and latent jealousy of her best friend. All in the midst of her town's teen beauty pageant.
I LOVED this one. It's been a long long time since I stayed up way too late because I couldn't put the book down. It happened with this one. Fortunately I have more self control than I used to, so I didn't finish the book that night, I wouldn't have made it into work the next day if I had. That didn't stop me from finishing the book while at work though…
Willowdean is such an amazing powerful main character. She has so many doubts about herself, caused by what others say directly to her, or hint at. Some classmates are cruel to her or avoid her, Will's only friend is her best friend, Ellen. Her mother though, forced diets on her until she was in middle school and her mother always fought with Will's obese aunt about Will's size. She would also make comments that either intentional or not, implied that Will really needed to lose weight in order to be happy. Will's main role model is her aunt, who died before the story begins. Will has to deal with the loss of her idol as well as realizations about her aunt that she never thought of before.
Bo is another amazing character. After he got injured (which happened before the story) he went through some major self-realization, Will met him near the end of this, and helped him become the awesome person he is. Bo is pretty much what every guy should be, completely uncaring of what others thing and just following his heart. He is totally my new fictional boyfriend!
Ellen I didn't think was too great, Will was definitely the bigger person (no pun intended) who repaired their friendship and let a lot of things Ellen did slide. Ellen really didn't care about Will's feelings with certain matters, like her new horrible friend, Callie. Ellen didn't even care about what her boyfriend thought of Callie.
I thought that there would be a much larger focus on the pageant and I'm really happy there wasn't. Will didn't care about it, so she didn't stress about it. I loved that we did get to see parts of it though, and I love that Will ended up being a fantastic role model for others and that while Will was coming to terms with herself so were her new-found friends. I love how Will's finding herself and being comfortable with herself really relied on others and in turn she helped them come into their own as well. It was so much more realistic than other coming of age stories I've read where the main character only needs themselves. I know I wouldn't be who I am without influence from my friends, acquaintances, and even the bullies.
I give this book an 11/10. It was so good and engaging not to mention a fantastic character driven coming of age story. I can't wait to see what Julie Murphy comes out with next!