by Katherine Applegate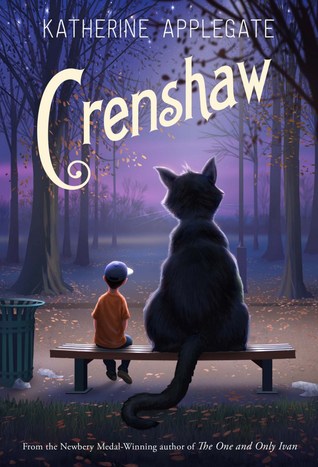 In her first novel since winning the Newbery Medal, Katherine Applegate delivers an unforgettable and magical story about family, friendship, and resilience.
Jackson and his family have fallen on hard times. There's no more money for rent. And not much for food, either. His parents, his little sister, and their dog may have to live in their minivan. Again.
Crenshaw is a cat. He's large, he's outspoken, and he's imaginary. He has come back into Jackson's life to help him. But is an imaginary friend enough to save this family from losing everything?
Beloved author Katherine Applegate proves in unexpected ways that friends matter, whether real or imaginary.
Growing up I was a huge Animorphs fan. When I heard Katherine Applegate was going to be at BEA I was so excited, I had to get a copy of this book. Unfortunately she was signing at the same time as another author I wanted to see meet even more. I was super lucky though and I was able to get in line (they had a finite amount of books, way too few for the amount of people who wanted them) and get a copy.
Crenshaw is about a boy, Jackson, from a poor family who was about to evicted, again. Crenshaw is Jackson's imaginary friend who made his original appearance the first time Jackson's family was homeless and who returned when Jackson started suspecting they were going be homeless again.
I loved this book, it was really cute and moving. The family really cares about each other and his parents try their hardest for their kids. It's a lesson on sticking together as a family and trying your best no matter what life throws at you.
Jackson was such a cute kid. He loves science and wants a logical explanation for everything and he loves sharing his random bits of animal knowledge with people. Crenshaw is as absurd as Jackson is logical. He's funny and nonchalant all while being extremely insightful.
I also loved how ambiguous Applegate was with if Crenshaw was real or not. Obviously, he's not real, he's an imaginary friend. But then, Aretha, the family dog sensed he was there, and Jackson's best friend made a comment alluding to him. And Crenshaw knew all about Jackson's father's imaginary friend.
Overall I give this a 9/10. It was a cute, fun read.