Waiting on Wednesday is a weekly meme hosted by Breaking the Spine that allows bloggers to share which books we are most anticipating.
This week I am waiting on From a Distant Star by Karen McQuestion (May 19, 2015)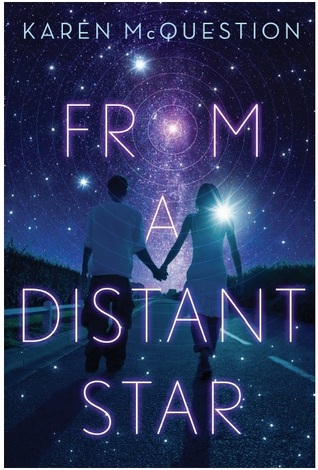 Seventeen-year-old Emma was the only one who hadn't given up on her boyfriend, Lucas. Everyone else—his family, his friends, his doctors—was convinced that any moment could be his last. So when Lucas miraculously returns from the brink of death, Emma thinks her prayers have been answered.
As the surprised town rejoices, Emma begins to question whether Lucas is the same boy she's always known. When she finds an unidentifiable object on his family's farm—and government agents come to claim it—she begins to suspect that nothing is what it seems. Emma's out-of-this-world discovery may be the key to setting things right, but only if she and Lucas can evade the agents who are after what they have. With all her hopes and dreams on the line, Emma sets out to save the boy she loves. And with a little help from a distant star, she might just have a chance at making those dreams come true.
Why I'm Waiting
This story sounds like it could be awesome. It will be a little weird reading a story where the protagonist has my name (I still can't get used to it in Once Upon a Time, and I've been watching it since it premiered...) but nevertheless I'm excited to read this one. I'm dying to know what the twist is, how did Lucas get better? I can't get a handle on where this story will lead, is it going to be sci-fi? Some alien assistance? Or will it be fantastical in nature? A little bit of wishing magic to cure him and give them their happy ending? Or will it be regular old modern day science that heals him? And secret government tech that they stumble on? Fortunately I don't have to wait long to find out!