by Sherry Thomas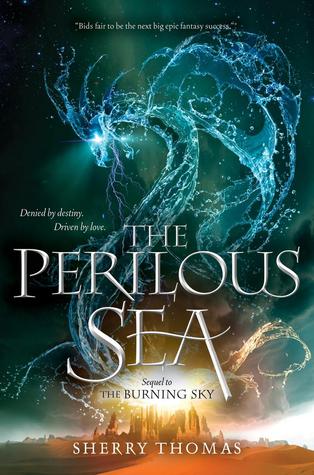 Summary from GoodReads
After spending the summer away from each other, Titus and Iolanthe (still disguised as Archer Fairfax) are eager to return to Eton College to resume their training to fight the Bane. Although no longer bound to Titus by a blood oath, Iolanthe is more committed than ever to fulfilling her destiny—especially with the agents of Atlantis quickly closing in.
Soon after arriving at school, though, Titus makes a shocking discovery, one that makes him question everything he previously believed about their mission. Faced with this devastating realization, Iolanthe is forced to come to terms with her new role, while Titus must choose between following his mother's prophecies—and forging a divergent path to an unknowable future.
Thoughts on the Book
After reading The Burning Sky I couldn't wait to crack open the sequel, and I wasn't disappointed. The only issue I had reading this book was that this thing called 'work' got in the way of a day long reading spree.
The Perilous Sea picks up at an unknown amount of time after the Burning Sky ends (my best guess is 3-4 months) with a girl in the middle of a sandstorm in a desert. We discover that it is in fact Fairfax, but she no longer remembers anything and is alone. Chapter 2 jumps back to Titus seven weeks prior; then chapter 3 is back in the desert. The entire book jumps back and forth between the present and the past which brought Fairfax to that desert.
This book is action packed; the desert chapters are fraught with peril and unknowns, while the Eton chapters are full of drama and surprising revelations. Typically book 2 in a trilogy is all about fact gathering and plotting the actions for the epic conclusion in book 3. No major events happen until the very end when the characters are left in a dire situation – a perfect cliff hanger for book 3 to happen.
The Perilous Sea, however, does not have any lulls in action. Everything that Iolanthe and Titus find out about the Bane is discovered by quick thinking during quick breaks between the action. Every plan formed in The Burning Sky is shattered by new information and Titus's whole belief system needs re-evaluating with some new information.
Fairfax and Titus's classmates play a larger role in this book as Fairfax spends more time with them. I absolutely love Cooper and Kashkari! I can't wait for the final installment where I can spend more time with these wonderful characters! I give this book a 10/10