by Marissa Meyer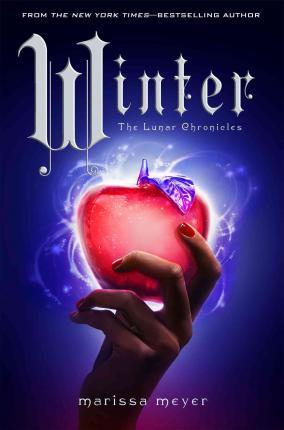 Summary from GoodReads
Princess Winter is admired by the Lunar people for her grace and kindness, and despite the scars that mar her face, her beauty is said to be even more breathtaking than that of her stepmother, Queen Levana.
Winter despises her stepmother, and knows Levana won't approve of her feelings for her childhood friend—the handsome palace guard, Jacin. But Winter isn't as weak as Levana believes her to be and she's been undermining her stepmother's wishes for years. Together with the cyborg mechanic, Cinder, and her allies, Winter might even have the power to launch a revolution and win a war that's been raging for far too long.
Can Cinder, Scarlet, Cress, and Winter defeat Levana and find their happily ever afters?
Thoughts on the Book
This book made an appearance as a Waiting on Wednesday. I read Cinder back when it was first published, and I've been hooked to the series ever since. I remember when Cress came out we had a bad snow storm, and I had to force myself to put the book down so I could shovel. Fortunately Winter didn't come out in February, so I didn't have to worry about shoveling snow, just raking leaves.
My Review
This book continues shortly after where Cress leaves off, but with no major developments to the story. Everyone is still in the Rampion plotting except for Scarlet who's making friends with a wolf.
This book really introduced a new character, Winter, who was pretty awesome. She was so smart and intuitive and really played up her lunar sickness to make herself seem pathetic and unremarkable. We got to see a lot of returning characters as well. Thorne was as awesome as always, as were Cinder, Iko, Scarlet, and Kai. We got to learn a lot more about other characters like Jacin and Wolf as well as see Cress really grow - be heroic.
Reading this book I wasn't quite sure what to expect. Some authors it's obvious they won't be killing anyone off, other authors you know no one is safe. But with Meyer, she wasn't shy of killing characters, so you just didn't know who would survive. Some characters were obvious she wouldn't be killing, but others, there was no coming back from what was done to them, so how could they all have a happy ending?
The ending was perfect for the series, as epic and amazing as the previous books. Meyer did a fantastic job of tying everything together while leaving plenty of unknowns to ponder and imagine the conclusions. I would love to read a novella that takes place years later just to see where everyone ended up and what exactly happened with everything in the works.
I give this a 10/10. I absolutely loved this book! What a fantastic conclusion to the series! Pretty sure the Lunar Chronicles just made it into my top 5 favorite series ever written.