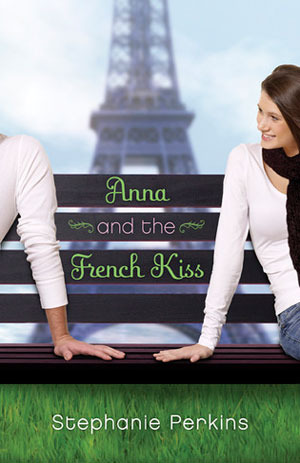 Summary from Goodreads
Anna is looking forward to her senior year in Atlanta, where she has a great job, a loyal best friend, and a crush on the verge of becoming more. Which is why she is less than thrilled about being shipped off to boarding school in Paris--until she meets Étienne St. Clair. Smart, charming,
beautiful
, Étienne has it all...including a serious girlfriend.
Thoughts about the book
For my first review I wanted to do my favorite YA book, Anna and the French Kiss. This book made such an impression on me I remember everything about where I was and what I was doing when reading it, there's not many books I can say that about. I attended Leaky Con in Chicago a few years ago and my good friend Nori from Nori's Closet convinced me to do the YA readers pass. At the time I only knew one or two of the authors, so I diligently got a book or two from each of the authors there; Stephanie Perkins was one of these authors. From the title (and the cover) I thought that I wouldn't enjoy the book so I saved it until near the end of the list. I think I started it on the short plane ride to Chicago fully expecting to not mind having to put it down often and not having much time to read. Boy was I wrong! I couldn't stop reading, it was a problem (as it so often is for me) I read the book entirely while waiting in lines for things at the con and was annoyed when I had to stop reading because someone was talking to me or I had to go into the even that I was waiting for. I've since read the book many times and every time it is just as amazing, and every time it speaks to me in new ways.
Review
The book starts with Anna devastated that she has to go to a Parisian boarding school for her senior year of college. She just started an almost-relationship with a cute guy from work, Toph, she's never been separated from her best friend Bridgette, and she's the only one that pays attention to her allergy-ridden little brother, Seany. Anna's parents bring her to France and to her horror leave her there. She's all alone in a strange new city full of people that she can't even speak to. Her dorm neighbor, Meredith saves her from isolation and she suddenly part of a small group of friends. As the year goes on Anna's relationships with everyone in the group grow and ebb like any real-life relationships do. The main relationship that the book is focused on is between Anna and her crush/friend St. Clair, but the book is not completely about that relationship, it touches on the relationship between best friends, the hurt that one can cause another and the love and understanding of each other that leads to forgiveness.
This book is so amazing to me because Perkins characters feel like real people, even the minor side characters. Everyone in this book has a story to tell, it's a little unfortunate we only see a couple of those stories. I could relate to all of the characters in different ways: Meredith suffering from unrequited love, Anna feeling completely out of place and not knowing how to go about fitting in and making new friends, St. Clair being a victim of complacency, Josh feeling abandoned when all his friends leave, Rashmi feeling left out as her friends grow around her rather than with her. Each time I read this book I find myself thinking back on a time in my life when I was in similar situations.
Perkins isn't only amazing at writing characters, her settings are amazing too. When I read the book I felt like I was back in Paris with everyone, relaxing on the church steps, sitting in a quaint old movie theater, standing at Point Zero at Notre Dame.
Everything in this book felt so real. It was completely engrossing and nothing felt forced or had anything that felt out of character. I give this book an 11/10. It was beyond awesome. Just writing this review makes me want to reread it for the umpteenth time!